This Sunday is Mother's Day, and if you know anything about NC you know how much we love Disney movies. So what better way to celebrate Mother's Day than by counting down my Top Nerdy Ten: Disney Moms! This post does contain spoilers about various Disney movies. You have been warned!
Disney Moms
1. Beauty and the Beast – Mrs. Potts
Mrs. Potts is mother to several little teacups, most notably Chip who is almost always by her side. She also takes on a motherly role toward Belle, guiding her with a motherly warmth, praising her for being brave by taking her father's place. When Belle just wants to escape the castle, Mrs. Potts reassures her that she just needs a warm cup of tea and then everything will be better. When Beast forbids the servants from allowing Belle to eat unless she eats with him, Mrs. Potts is the one who makes sure that she is fed when Belle admits she's hungry. There's a motherly wisdom about Mrs. Potts that I've always loved, and whenever she is uncomfortable with Chip learning too much she gives him every parent's favorite line: I'll tell you when you're older.
2. Winnie the Pooh – Kanga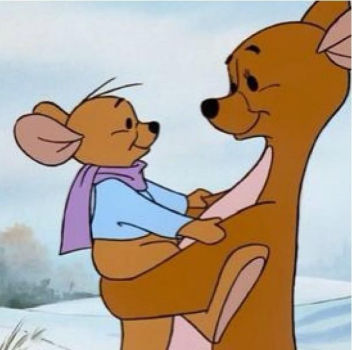 Kanga acts as not only a loving, caring mother to her own child, Roo, but also as surrogate mother to the other friends from the Hundred Acre Wood. Whenever someone needs advice about life, she is there. She often helps to re-attach Eeyore's tail; she helps Christopher Robin and Eeyore get Pooh un-stuck from Rabbit's door when he ate too much honey; and when Roo is being a daredevil, Kanga says a very mom thing by telling him to not fall too fast. When Tigger is sad about having to keep his promise to stop bouncing, Kanga is the one who remarks his sadness and convinces everyone that he needs to keep bouncing. Kanga is the best (and only) mom in all of Hundred Acre Wood.
3. Tangled – Queen Arianna
Arianna had to miss out on 18 years of her daughter's life. As a mom myself, I cannot begin to imagine what that would feel like. On Rapunzel's 18th birthday when she and King Frederic are getting ready to release the lanterns he begins to sob. Arianna places a gentle hand to his face. In that moment she stays strong so that her husband can freely show his emotions. In the series she reveals that she was very much an adventurer like Rapunzel when she was younger. Though Frederic is over-protective of his daughter (I mean, can't say I blame him!) Arianna is the parent that Rapunzel can confide in when she's feeling frustrated and unsure of her new role as Princess of Corona.
4. Moana – Sina
We've seen the great lengths and sacrifices that a mother will make to keep her children safe, but even greater of a sacrifice it is when a mother needs to let her child go. This is especially true when her child is going somewhere uncertain and possibly dangerous. When Moana needs to leave her island to find Maui and restore the Heart of Te Fiti, her mother finds her as she is packing to leave. Rather than stopping her and trying to convince her it's too dangerous, she helps her. She makes the ultimate sacrifice by letting Moana go because she knows it what she must do to save her people.
5. Aristocats – Duchess
Mother to Marie, Berlioz, and Toulouse, and devoted to her owner Madame Adelaide, Duchess is the epitome of ladylike grace. Duchess is both caring and protective over her kittens, and instills the love and gift of music into them. Even though she has been brought up in a rather fancy home life, Duchess is still kind to everyone, even a rough alley cat like O'Malley.
6. Bambi – Bambi's Mother
Yeah, we don't even get to learn her name. As a child, Bambi was probably the first movie I'd ever seen in which I had to learn about death. We don't get to learn much about Bambi's mother aside from the fact that she is the mate of the Great Prince of the Forest. In the Bambi midquel, Bambi II, she briefly makes an appearance in Bambi's dream. She says to him, "I'm always with you. Even if you can't see me. I'm here." (Sounds a lot like the line Littlefoot's mother says in The Land Before Time…but I digress) Bambi's mother makes the ultimate sacrifice in order to save Bambi when Man is in the meadow.
7. Dumbo – Mrs. Jumbo
While all the other elephants are cruel toward Dumbo because of the way his ears look, Mrs. Jumbo is completely devoted to keeping her son safe, and showing him how much he is loved. At one point she runs to his defense during a circus performance when he is being taunted, and as a result she is locked up for being a "mad elephant". Jerry the mouse brings Dumbo to see his mother. Thus ensues the following scene which makes me tear up every time.
8. Brave – Queen Elinor
Queen of DunBroch and mother of Princess Merida, though Elinor and Merida don't see eye to eye, everything she does and says to her daughter is out of love. Though Merida is unable to live up to the ladylike standards that Elinor tries to instill in her, Elinor is ultimately proud of the Brave young woman her daughter becomes. Elinor turning into a bear is symbolic for how protective a mother bear can be over her cubs and how far she will go to keep them safe. If you're looking for a mother-daughter movie that will make you cry, this would be the one.
9. 101 Dalmatians – Perdita
Perdy is one well-mannered, elegant little lady pooch. She is the polar opposite of Pongo's high-energy, clumsy nature. Perdy is also honest about motherhood in admitting at one point that she regrets having the puppies because Cruella wants them so badly. One thing is for sure though, Perdy can be one fierce fighter when it comes to defending her pups! Perdita has such a warm, loving heart that she doesn't even give a second thought about adopting the other 84 Dalmatian puppies and loving them as if they were her own.
10. The Princess and the Frog – Eudora
Eudora shows support for Tiana's dream of opening up her own restaurant, even when she can't envision that rickety old building the way Tiana does. Still, she shows concern over the fact that Tiana works so hard that she never has any time or energy to devote to the little things in life. Eudora dreams of the day when her daughter can finally settle down and give her some grand-babies!
Who are your favorite Disney Moms? Did yours make the list? Let us know in the comments or on any of our social media!
Stay Nerdy!
~Jams